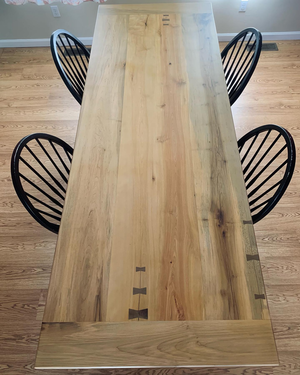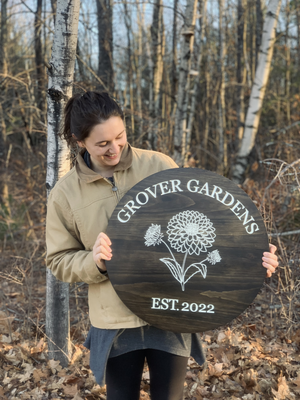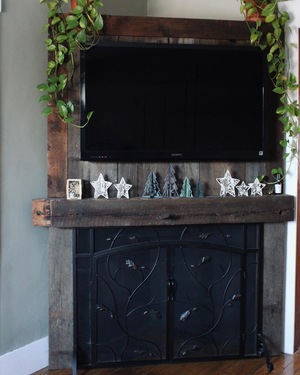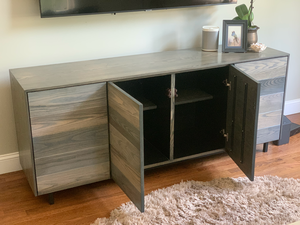 Homegrain Creations
P.O. Box 429, Bradford, NH 03221
Phone: 603-748-9045
Homegrain Creations is a small woodworking business located in Bradford, NH. Using traditional woodworking tools, a laser, and a CNC machine, we love to create one of a kind furniture pieces, signs, and home decor items. We specialize in custom orders and find great joy in working with our customers to bring their visions to life. Wood is a natural and sustainable resource and we hope to help bring this product into your home by creating custom furniture pieces.
Anna and Matt are the husband-wife team behind Homegrain Creations. Anna received her Masters degree in Elementary Education from the University of New Hampshire and then proceeded to teach Kindergarten and First Grade for a few years before taking an extended maternity leave. Since then she's put her energy into creating many product designs, learning the ins and outs of small business ownership, and chasing around a very energetic toddler! Every product is created with love and the desire to bring one of the most natural resources, wood, into the many areas of your life.
Matt has worked in the trades his whole life and loved every minute of it. He graduated from Granite State College with a bachelor's degree in business management. He is also a combat veteran who served in the United States Marine Corps. Since then he has held a variety of jobs. However, no matter what position he held, he always preferred to be in his wood shop. With no shortage of requests from Anna, he stays busy handcrafting beautiful products that we hope will bring you some joy as well.
Our vision: We can't say it enough - we LOVE our customers (and their amazing visions!). Our favorite thing to do is to help people bring their visions to life. We've built so many wonderful projects by working closely with our customers to make sure we create something that they will love for years to come. We are here for your woodworking needs, so be sure to reach out to us! We will always work hard to turn your inspiration into a reality.