Contoocook Riverway Association Visitor Center
Press Release - June 26, 2023 - The Kearsarge Area Chamber of Commerce has generously provided a grant in the amount of $3,360 to the Contoocook Railroad Museum Visitor Center. This grant will be used to fund summertime hours for the visitor center. Regular scheduled hours at the visitor center will help to promote area businesses and organizations to visitors and residents. Kearsarge Chamber members are encouraged to contact either the museum or the chamber if they would like to schedule a pop-up shop at the museum.
Brochure Printing

10/03/23: It's almost time for the Warner Fall Foliage Festival. Please let us know if you'd like some brochures. We have a few new advertisers in this brochure. Be sure to take a look. If you would like your business to have an ad in the brochure, contact us today and we'll get you all set up for the next printing. You can pick up your own copy at:
Andover Town Hall - Andover
Bradford Town Hall - Bradford
Contoocook Railroad Museum & Visitor Center - Contoocook
Hopkinton Town Hall - Hopkinton
Riverside Pizza - Contoocook
Witching Hour Provisions - Contoocook
Market Basket - Warner
Pillsbury Free Library - Warner
Warner Town Hall - Warner
Cafe One East - Warner
Reed's North - Warner
Newbury Public Library
Manchester-Boston Regional Airport - Manchester
The Big E
Brochure Ads
We now offer half page, full page, and double page ads (color or black & white) in the brochure. You can purchase ad space at
Store.KearsargeChamber.org
and we'll contact you to get the ad copy. Ads may be either black and white or color and may be 1/2 page or full page in size. The complete list of sizes and costs are listed below. Email your ad requests to . Note that the inside and outside back covers are already taken. See rate card below for more details. Ads that are currently being printed: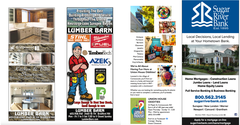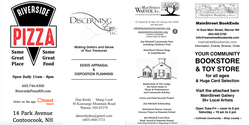 It's always a good time to join. Get 18 months for the cost of 12 months. For each new member that you refer, you get four months added to your membership. Join today at https://store.KearsargeChamber.org.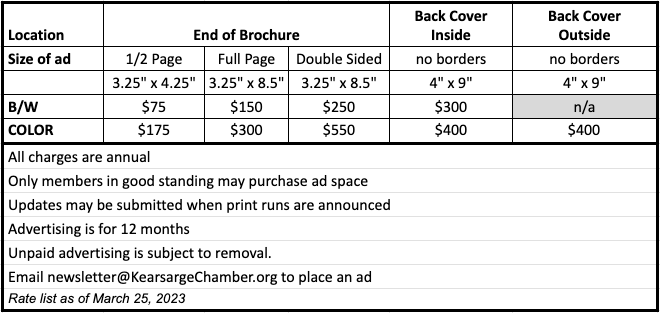 Sunapee Region Arts Atlas
8/18/21: KACC is proud to be a sponsor of the Sunapee Region Arts Atlas. The first phase of the arts atlas is complete! Brochures can be found at local chambers of commerce and local businesses including Bradford Junction Cafe & Market and Cafe One East. The atlas is an artful, hand-illustrated, engaging paper map, free public resource, and is a helpful tool to entice residents and visitors to explore the region. Municipalities and real estate agents can showcase the many cultural hidden gems that contribute to quality of life, making the region a great place to live, work and play.
Everything Else
If your town clerk's office doesn't yet have the KACC brochures, contact us so we can get you some to give them. Our brochures are distributed as far as the Manchester-Boston Regional Airport where travelers are able to pick up a brochure at the information desk.