Brochure Printing

10/14/21: We've outgrown the format of our brochure so we're making some changes. With these changes come some new options. The brochure will now be printed in a perfect bound format. This is the same format that softcover books are printed. We will now be offering paid advertising space in the brochures. Click on the rate card below to see the different ad options. Email your ad requests to . Brochure content updates will generally be done the end of January and end of June. See rate card for more details.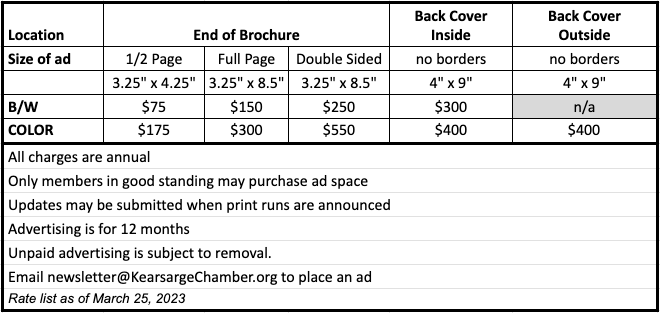 Brochures are available at the Contoocook Visitor Center, Market Basket in Warner, and various local shops and libraries. If you haven't joined yet, you've missed this brochure but don't fret, it's always a good time to join. Get 18 months for the cost of 12 months. Join today at https://store.KearsargeChamber.org.
Kearsarge Open Studio
The Warner Historical Society and KACC are sponsoring a weekend of art exhibits and shopping in Warner and Contoocook. The event kicks off with an open house at the Upton Chandler House in Warner on Friday night from 5p - 7p. Artists will be showcasing their work and many will have items for sale on Saturday and Sunday, 10a - 4p. Check out the list of venues and locate them on the handy map.

Sunapee Region Arts Atlas
8/18/21: KACC is proud to be a sponsor of the Sunapee Region Arts Atlas. The first phase of the arts atlas is complete! Brochures can be found at local chambers of commerce and local businesses including Bradford Junction Cafe & Market and Cafe One East. The atlas is an artful, hand-illustrated, engaging paper map, free public resource, and is a helpful tool to entice residents and visitors to explore the region. Municipalities and real estate agents can showcase the many cultural hidden gems that contribute to quality of life, making the region a great place to live, work and play.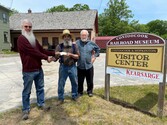 Contoocook Railroad Museum Grant
6/4/21: The Kearsarge Area Chamber of Commerce has generously provided a grant to the Contoocook Railroad Museum Visitor Center. This grant will be used to fund summertime hours for the visitor center to remain open for about 14 weeks beginning Memorial Day weekend and running through Labor Day. Regular scheduled hours at the visitor center will help to promote area businesses and organizations to visitors and residents. Kearsarge Chamber members are encouraged to contact either the museum or the chamber if they would like to schedule a pop-up shop at the museum. The full press release can be found here.
Everything Else
10/16/20: The Chambers in the Dartmouth-Lake Sunapee Region are working together, in cooperation with the State of New Hampshire's GOFERR committee, to bring products and services to our communities that will help us all continue the journey of recovery and prosperity as we start to emerge from the COVID-19 pandemic.

If your town clerk's office doesn't yet have the KACC brochures, contact us so we can get you some to give them. Our brochures are distributed as far as the Manchester-Boston Regional Airport where travelers are able to pick up a brochure at the information desk.