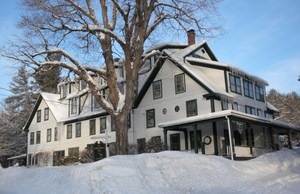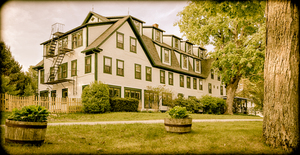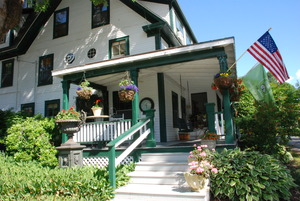 Follansbee Inn
Mailing: P.O. Box 92, North Sutton, NH 03260
Business: 2 Keyser Street, North Sutton, NH 03260
Phone: 800-626-4221
Our lake frontage offers a pier with kayaks, canoes and a rowboat. Tall pine trees shade the shoreline, and there are open spaces for sunbathing and lounging. A picnic bench and a hammock make comfortable places to enjoy the tranquility of the lake. Kezar Lake is a perfect size for quiet boating and fishing, too. If you would like a little privacy, row out to the secluded island for a picnic. And don't forget the "Small Town America" Fourth of July festivities for young and old alike.
The three mile walk around the lake is a perfect distance for easy exercise or for a quick jog, any season of the year. You'll see Mount Kearsarge in the distance. It's the highest point in the area at 2914 feet. You can take an easy hike to the top of the mountain for panoramic views of the valleys below, and as far away as the White Mountains of New Hampshire, the Green Mountains of Vermont and the Atlantic Ocean. Guided summer hikes throughout July and August provide fun with people familiar with the local terrain.
Sit back after your day's activities and take in the inspiring view. We can introduce you to a number of hiking trails with historic interest. If you're into bicycling, we can loan you a bike (or bring your own) to travel some back roads or mountain trails. If you enjoy a round of golf or two, we can recommend several courses in the area, including The Country Club of NH, Eastman Golf Club, John Cain Golf Course, or Twin Lake Villa, each of which has special challenges. If tennis is your game, there are outdoor courts at the High School, at Colby-Sawyer College, and at the New London Outing Club.
Of course, New Hampshire has plenty of historical sites including The Musterfield Farm Museum, just one mile up the road; the John Hay Estate (also known as The Fells) on Lake Sunapee; or Saint-Gaudens National Historic Site and Canterbury Shaker Village, all only a short drive away.
When you're ready for wholesome entertainment, we can direct you to the seasonal choices. In the summer, The New London Barn Theater offers nightly summer stock productions of toe-tapping musicals. If your tastes run to jazz or big band or classical, we'll send you to a concert at the Town Hall or at the village green bandstand. During the winter, Colby-Sawyer and Dartmouth College both offer live theater as well as sports events and there are art museums. Shopping and antiquing at local shops is always a popular activity, all year round.
Our central location in New England allows for easy day trips to the Maine seacoast, the New Hampshire White Mountains and the Green Mountains of Vermont. We can suggest a route that takes in lots of scenery, shopping and sights and brings you back here for a good night's rest. For more ideas on what to do, visit our Activities Page.