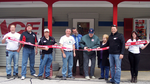 Warner 5/1/15: The Board of Directors of the Kearsarge Area Chamber of Commerce were invited to help celebrate the grand opening of Cyr Lumber and Home Center in Warner recently.
Founder of the company, Ron Cyr, cut the ribbon as members of his family and others looked on. The Cyr family purchased the former Hamilton Building Supply Company on Route 103 last summer, and have been remodeling, updating and stocking the shelves ever since.
"This is a great area, and we're excited about becoming part of the community and providing our customers with great quality and service, as we have in our Windham store," said Kevin Cyr, president of the company. "Being just off Exit 7 of I-89, makes this a convenient location for many people."
Photo caption: L-R Paul Hamel, Kevin McKay, General Manager, Brian Cyr, Paul Cyr, Patrick Miller, Kearsarge Area Chamber of Commerce President, Ron Cyr, Rachel Cyr, Kevin Cyr, Caitlin Cyr.