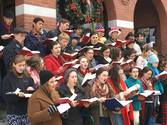 Warner Hometown Holiday
Friday - Saturday, December 1 - 2
Warner Town Hall and Main Street
5 East Main St, Warner NH

Join us and your neighbors as we kick off the Warner Hometown Holiday celebration. The celebration begins with a holiday vocal concert on Friday night. On Satuday, there will be various events during the day, culminated with a tree lighting and the Taste of Warner holiday party with carols. All of these events are family friendly and children are most welcome! The schedule listed below is subject to change:
Friday Night
6:00pm - 8:00pm: Holiday Vocal Concert with Northeast Catholic College choir
8:00pm: Live music at The Local
Saturday
10a - 4p - Warner Farmer's Market Winter Market and Crafts at Warner Town Hall
10a - 4p - Artisans at the Upton Chandler House
10a - 4p - Reading of "Night Before Christmas" in front of the fire in The Mainstreet Gallery
11:30a - Gingerbread Man play by KCPA at Warner Town Hall
11:30a - Gear Up Children's Chorus in The Mainstreet Gallery
12p - Efner Tudor Holmes reading "The Christmas Cat" in The Mainstreet Gallery
12:30p - Carols with NECC on the Terrace at Jim Mitchell Community Park
1p - KCPA Piano Concert at Warner Town Hall
3p - 5p: Santa Claus at Warner Town Hall
5p - Official Tree Lighting and Opening of the Festival of Trees at Warner Town Hall
5p - 7p - Taste of Warner community holiday party with holiday carols at Warner Town Hall sponsored by the Kearsarge Area Chamber of Commerce and local businesses and restaurants.

The Festival of Trees will run at Town Hall from Saturday December 2 through Christmas.
This event is organized by the Kearsarge Area Chamber of Commerce and Schoodacs Coffee House. If you would like to sponsor a tree, a food item or help in any way, please contact Emma O'Connell at emma@schoodacs.com. This year we are hoping that the businesses and residences along Main Street will decorate the outside of their buildings with lights to make Warner a tourist destination.