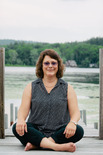 Centegrity Wealth Advisors - Ameriprise Financial Services
50 Nashua Rd STE 112, Londonderry, NH 03053
Phone: 603-428-4344
Fax: 603-428-4338
Deb is an experienced licensed financial advisor of 26 years at Ameriprise Financial. She has a passion about the business, and genuinely enjoys helping people of all ages, across multi-generational lines manage their finances and achieve their financial and retirement goals. She has attained the status of becoming an Ameriprise Platinum Financial Services Advisor and using the "Confident Retirement Approach" she is committed to helping her clients achieve their financial, retirement, educational and estate planning legacy goals.
Working Together
Meeting with an Ameriprise financial advisor is an important first step. It's an opportunity to get to know an advisor and share your goals and dreams. You're under no obligation; your initial meeting with an Ameriprise financial advisor will be relaxed and informal.
Your meeting will include a review of your existing financial situation and potential opportunities, gaps or general strategies. While you won't receive a comprehensive review or financial planning services for which fees are charged, you should expect to get a sense of what it might be like to work together.
Deborah Nitzschke has been named on the Five Star Wealth Managers list for 10 years in a row. This is an honor awarded to a select group of advisors for quality of service and success in business and ethics. To learn more about Deborah, please visit her website.
We look forward to working with you.